There's something special about February 1st. It signals the coldest month of the year is over. The days are longer. Spring advertisements are starting to pop up.
For me, February 1st is so much more. It is the day I felt the grandest act of commitment.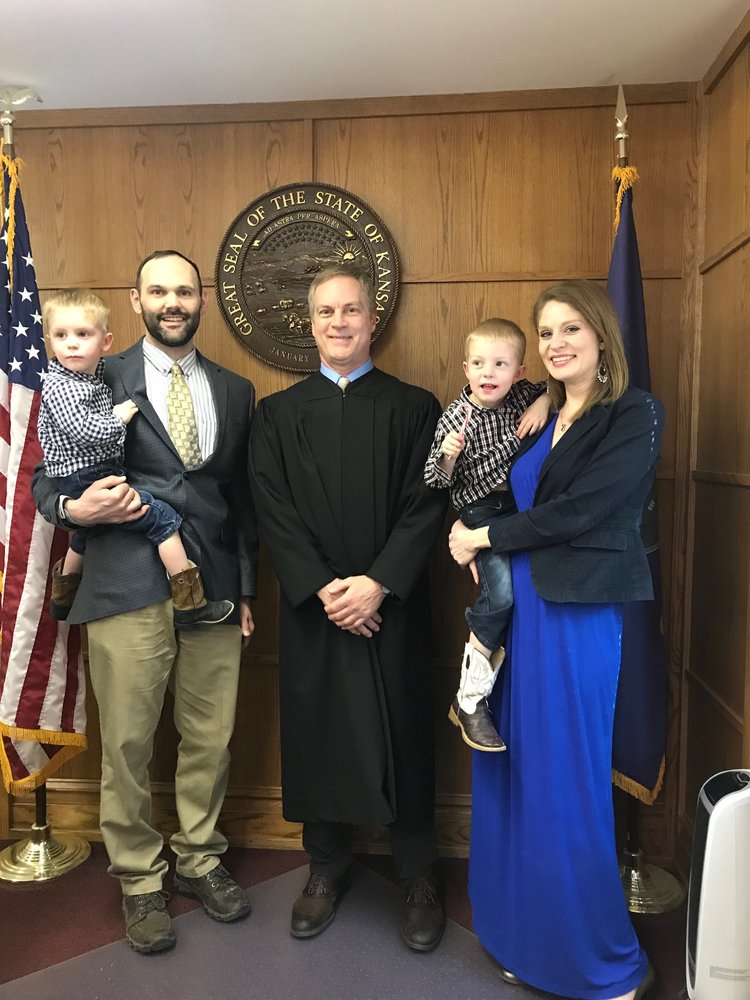 I wonder what the world was like when what we did in private was commonplace—
without the pressures of social media or digital photo albums that are distributed far and wide.
We do have a couple of pictures from our wedding day from a simple iPhone. There was no makeup or hair stylist. My dress wasn't yet altered, so it didn't fit quite right. There was no wedding music and I'm not sure that we had reservations for our wedding reception. And, it was all so perfectly perfect.
We spent months planning for the adoption and were told we would find out about our court date about a week in advance. We didn't pick the date. It was simply when the judge, the attorneys, and the courtroom were available at the same time. There was the one picture—with an iPhone—and no big announcements. It was a perfectly private affair.
February 1st indicates a reminder to me to focus on what's right in front of me.
There are so many opportunities to look outward and impress others through words, actions, and stories. In the end, I made a commitment to my husband and my children to show up for them. I do forget sometimes, though I know who is waiting to "catch me up whenever I fall." Those are the people I need to impress the most.
Keep reading to feel what the adoption day meant to me.
It was a cold winter day when I walked my toddlers across the street from the law office to the courthouse accompanied by my attorney and husband of 10 months. The first thing the boys noticed were the two police cars outside the courthouse. They were excited to see the car up close and especially loved getting out of school mid-day. They were enamored by the security check and all the police officers saying hello to them. One of them asked if the boys wanted to ride on the belt through the x-ray screening. They declined.
The boys were full of questions about why the officers had to look at our stuff and why they had guns. And why were there six of them at the entrance of the courthouse? I had different questions swirling around in my head. What was the judge going to ask the boys? Why did they have to come to the courtroom anyway? Who was allowed to access the courtroom? Was the hearing publicized? Could people rebuke the hearing? Could the judge decline our request?
Alas, we arrived in the private courtroom. It was a small room with "private hearing" on the door. Once we entered, the door was locked and nobody else could enter. That took care of a few of my questions. There was the traditional judge's bench with a witness stand all behind the partial wall facing the council's podium and chairs and a small gallery with benches against the two walls for about 10 people to sit behind the council. My eldest child and I took a seat on the bench behind our attorney. My youngest eagerly sat on my husband's lap next to our attorney. Then, we waited.
Promptly at our designated court time, the judge opened the door behind his bench and came out with a straight face in his formal black robe. We were instructed to rise until he sat down. He read our hearing document and then the attorney called my husband to the stand.
My youngest boy jumped right up on dad's lap at the front of the courtroom, while my older boy stayed with me in the back of the room. After the judge swore him in, the attorney asked a variety of questions about who he was and what he does for a living. Of course, she already knew all this information, so it seemed rather odd. Then, came the important question…the one she didn't give us warning for until that moment… "Do you understand that this is a permanent and irrevocable decision?" I felt the lump in my throat. There he was, being asked to make a permanent and irrevocable decision. It was the moment of truth. No turning back after this. Time seemed to stand still as I looked around the room. My oldest child was laying on the bench at this point kicking his feet in the air, but all other eyes were on my husband.
He responded, "I do." He didn't hesitate, he didn't flinch, he didn't lose eye contact with the attorney. He simply said yes, calmly and confidently. As in, "Yes, I will be the father to these two boys for as long as I shall live." I got tears in my eyes then and I get tears in my eyes now thinking about the magnitude of what that simple "yes" meant. I told myself, "Hold it together." This judge has seen his fair share of tears in the courtroom, and this is certainly not an occasion for tears, it was a time of pure joy.
That simple yes meant for the first time that I wasn't on my own anymore. The boys' biological father took his own life 29 months prior. For reasons that aren't fully understood, my mother became swallowed by her own grief and abandoned me.
After Dylan got off the hot seat, it was my turn. My oldest boy sat with me at the witness stand. Again with the questions, why is the wall so high? Why is this (the microphone) here? And after the boy's questions and the attorney's question, we were done. We took our first family picture of all five of us (our baby girl was starting to show behind my loose dress). It was just 16 months prior to standing in that courtroom that Dylan walked into my life and showed me what real commitment looked like.
There are a lot of times that I'm not OK. But, by the grace of God, I found peace and did not allow myself to be swallowed in grief. I decided the day when my two-year-old looked up at me and asked why I was crying while he wiped my tears that I had two choices—I could drift away and let my children take care of me or I could choose to live. I made the commitment to my children that day that I was there for them.
It was the same type of commitment I saw a year later (before the adoption) when my oldest boy tapped on Dylan's leg and asked with the sweetest voice, "Are you my dad?" like something from the "Are you my mother" children's book. Dylan responded, "Do you want me to be your dad?" My boy responded with an enthusiastic, "YES!"
It was the same type of commitment I saw on my first visit "home" to meet the family and was welcomed with open arms…when my husband's family drove nine hours to help when I had my own health scare...and when I brought my children to meet the family for the first time and how they called themselves "Grandma Alisa" and "Grandpa Joe." Blood line was irrelevant. What matters is love and saying yes to one another.
When we told the boys that they were going to go see the judge and he was going to ask if they wanted Dylan to be their dad, they said very matter-of-factly, "He already is our dad." Kids are so honest and simplistic. Legality doesn't matter to them. Labels don't matter to them. What matters is commitment. The commitment of teaching the boys how to ride a bike, his commitment to follow through on requests, and so much more meant that Dylan was a dad long before any legal agreement was made.
Professional Application
Are you interested in training for yourself or your team on issues like these? Reach out to see if I can be useful to you.
See our Courses & Community options
Stay connected with news and updates!
Join our mailing list to receive the latest news and updates from our team.
Don't worry, your information will not be shared.